ESP LTD Lynch Kamikase GL-500K (10/10)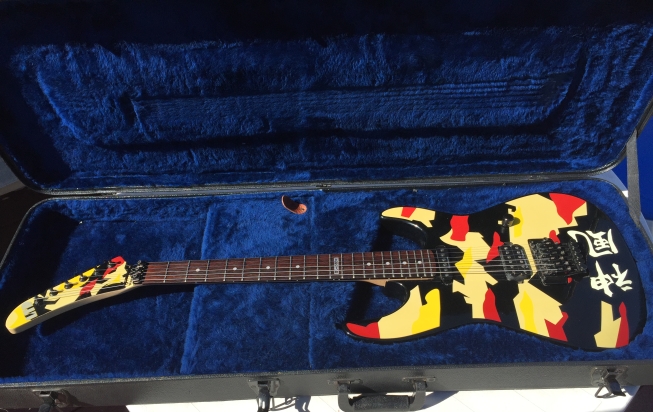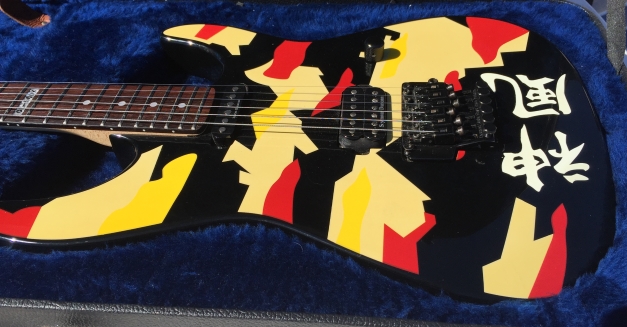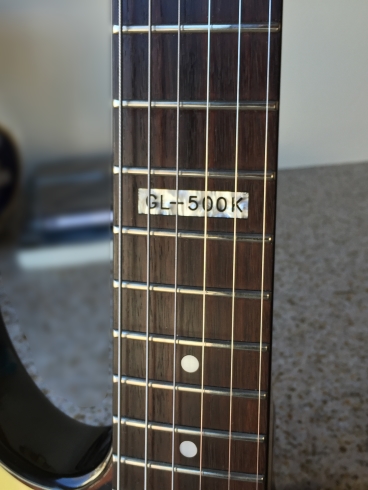 Blurb:
Classic George Lynch guitar without breaking the bank. These guitars have been discontinued in favor of the lower priced GL-200K. If you can find one in good condition, it is night and day better than the GL-200K.
Sound :
If you are looking for the classic 80's sound, this guitar is it. It comes pretty close to George Lynch's sound from the classic Dokken days, and that's a VERY GOOD THING. The body is alder, which is known to give a brighter sound. The pickups in my guitar are not the stock "Duncan Designed" pickups, they were replaced with actual Seymour Duncan pickups, and they are fantastic. They maintain clarity when you roll them back for incredible clean tones also. At full volume, and some gain, you will definitely be able to get all those George Lynch screaming pinch harmonics flowing through the guitar.
Action, Fit, & Finish :
The guitar was in mint condition. There was not a single scratch or ding on it. The guitar sports the classic George Lynch Kamikase design, the one without the photo of the Kamikase pilot. The Kamikase pilot photo was placed on the lower GL-200K model.
When I first bought the guitar (USED), it was not set up properly. But as with all guitars I buy, I take the strings off and clean the guitar before doing a complete setup on the guitar. Like many guitars from that era, this guitar has the truss rod adjustment facing the body. You have to take the neck off the body to adjust it, then put the strings on again, check the action, and do it again (if necessesary) until it you get it right. Also, this is the first guitar that I have seen that has both the truss rod adjustment facing the body and also uses hex keys for the adjustment. In the many other guitars with the truss rod facing the body, every one of them was a phillips head.
The reverse headstock takes fome getting use to also. Since I have switched to Cobalt strings, I have NEVER broken a string......that is, until stringing this guitar. It wasn't the guitar, or the strings, it was me. I never look anymore to see what string I am tuning. I've been doing it for so long that it's second nature. Well, that second nature routine caused me to break, not one, but two G strings during the setup. I was trying to tune the D string and it wasn't tuning correctly, so I continued to turn and turn, until that wonderful sound that you just broke a string. I didn't break the D, I broke the G because I was turning the wrong peg. And just to prove what a creature of habit I am, I actually did the EXACT same thing a second time.
Once the guitar was cleaned, and the set up was completed, the guitar was amazing. The fret work was incredible. Other than a quick cleaning with #0000 steel wool, I didn't have to do anything to the frets. They were in perfect shape. Crowned perfectly, edges filed and rounded perfectly. The neck has a longer scale than most of my other guitars, and it is a very wide neck. It's not a thick neck, just wide. At first it took some getting used to, but soon I realized what a huge benefit it really was. The benefit is that you can play a wider vibrato without muting the strings next to it.
The jack is at the bottom of the guitar, like other super strats, but this one is offset, which points the cable out towards the back of the guitar.
The part of this guitar that takes a little time to get used to is the pickup selector. There is not switch to change pickups. There is only one knob on the entire guitar. It's a push-pull volume pot that doubles as a pickup selector. Pull the pot up for the single coil neck pickup and push it down for the humbucker. Like I said, it takes a little getting use to, but it seems very intuitive once you do get use to it. I also find myself using the volume pot more on this guitar than any of my other guitars. Roll it back for some incredible clean tones, and turn it up for that George Lynch Dokken crunch sound.
This guitar is a pleasure to play.
Customer Support :
Haven't needed any customer support.
Liked about it :
The feel of this guitar is as good, and maybe better than any other guitar I own. This thing screams. It's 80's "Hair Metal" all the way. But it also shows it's seofter side when rolling off the volume. After getting use to the push pull pickup selector, I find it very easy to have everything in one location. I wonder why all guitars with 2 (non-split) pickups don't use this configuration.
Didn't like :
The only thing I didn't like about this guitar was the truss rod location. It's not a major deal once the guitar is set up, but is a real pain to do it the first time. Once it's done, more than likely you won't have to do it again.
Rating:
My overall rating on this is a solid 10/10. Incredibly confortable guitar. Incredible sound. Just an incredible guitar. If you can find a 500 or 600 series, get it. You wont be disappointed. Not so sure about the 200 series.
Ritchie Blackmore Stratocaster (1997 Japan version)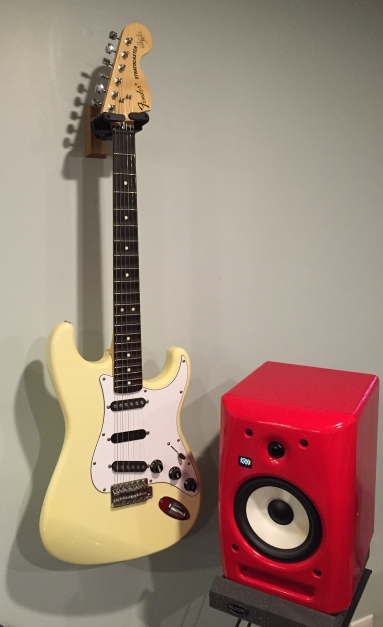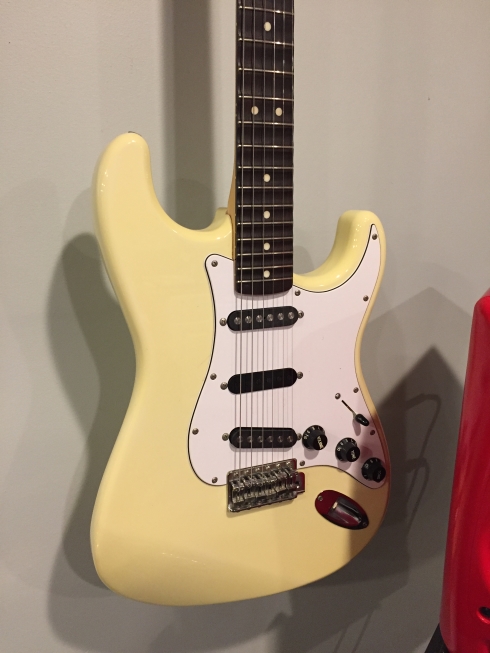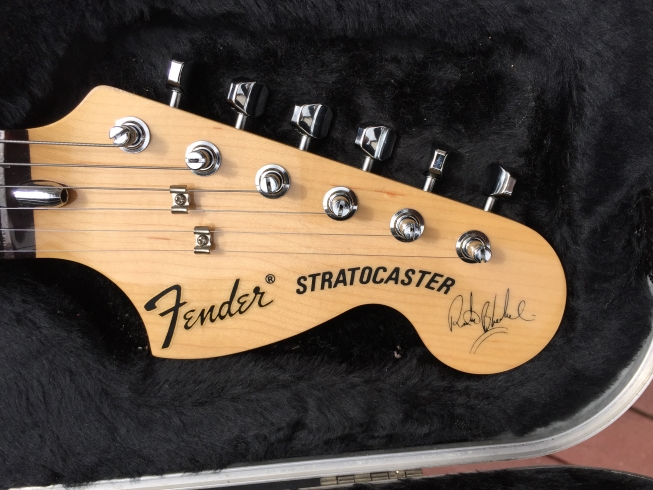 Blurb:
A signature model Stratocaster based on Ritchie's favorite Stratocaster.
As a Blackmore fan, I have always looked at these as a "nice to have" guitar, not a "need." After finally buying one, it is an incredible Stratocaster.
As expected, I had to do a quick setup on this guitar. I never use the tremolo on any strat, so I moved the bridge flush with the body. That added an incredible amount of sustain to this guitar.
SPECS:
Body: Basswood
Neck: Maple, U-Shape, (Polyurethane Finish)
Fingerboard: Rosewood, 7.25" Radius (184 mm)
Graduated Scalloped
No. of Frets: 21 Vintage Style
Pickups: 2 x SSL-4 Seymour Duncan Quarter Pounders
Controls:Master Volume,Tone 1. (Neck Pickup),Tone 2. (Bridge Pickup)
Pickup Switching 3-Position Blade:
Position 1. Bridge Pickup
Position 2. Bridge and Neck Pickup
Position 3. Neck Pickup
N.B. Middle pickup is a dummy plate
Bridge: Vintage Style Tremolo with steel block
Machine Heads: Fender Vintage Tuners
Hardware: Chrome
Pickguard: 3-Ply Parchment
Scale Length: 25.5" (648 mm)
Width at Nut: 1.650" (42 mm)
Unique Features: 3 bolt neckplate with "micro-tilt" adjustment
Sound :
The sound is simply incredible. It is, without a doubt, the closest I've ever heard to the true Blackmore sound.
The guitar comes with a 3 way pickup switch. This is because the middle pickup is a "dummy" pickup. It's not a pickup at all, it's a piece of plastic that looks like a pickup. Ritchie never used a middle pickup. At first, this might seem a little strange, but as soon as you hear the sound generated from the 2 Duncan SL-4 pickups, you realize that there is no need for a middle pickup. The SL-4 pickups are much stronger than regular single coil pickups. They are more in line with P90s than single coils. The middle position gives a nice mix of the bridge and neck pickups.
Action, Fit, & Finish :
The finish is an Artic White (slightly more yellow than the Olympic white). The body of the guitar seems heavier than my other Strats. A small part of that extra weight is the tremolo block, which is larger than the standard tremolo block. This gives you added sustain. But, in reality, the added mass of the block isn't where the added weight comes from. This body is much heavier than other strats.
Customer Support :
Haven't needed any customer support.
Liked about it :
The feel of this guitar is exceptional. Hands down the best Stratocaster I own. The scalloped neck is a pleasure to play. The added mass of the tremolo block makes a difference in this guitar.
Didn't like :
The only thing I can say I don't like is the small radius fretboard (7.25" radius). This is the standard for Vintage Fender necks. As with all small radius fretboards, there is a tendency for the high E and B strings to "fret out" when bent beyond the mid point of the neck. But, I guess it doesn't bother Ritchie, so I'll have to work with it.
Rating:
My overall rating on this is 9/10. If it had a larger radius, I would most likely give it a 10/10.
PRS SE 245 Black (8/10)/ PRS SE 245 Tobacco Sunburst (8/10)

Blurb:
I bought 2 of these guitars. One was bought during some incredible price match a couple of years ago, and Musicians Friend price matched it from some other website. I first thought it would just be a deal because of the price and I would simply use it for songs that were usually played on Les Pauls. But that soon changed after it arrived. It is an incredible guitar, not just for the money, but in general. This guitar is well worth the full price, around $650. I bought the second one in a trade + cash deal at Guitar Center. It has a beautiful flamed maple veneer. These guitars are incredible. I'd buy another if I found a reason. If you have not checked out a PRS neck, they are simply incredible. I watched a documentary about their necks, and it said that they spend as much as 90% of their time on the necks. I can believe it. The neck is superb. Most of my guitars have a 25.5 scale length and are strung with 9s, the inch difference (24.5 scale length) makes a huge difference in feel. So much so, that I had to change this guitar to 10s to get the correct feel. The 9s felt like 8s on this guitar. Now with the 10s, it has the feel I'm used to.
Sound :
The stock pickups sound very good. I like a clear sound on the high tones. I have played several Dimarzios (including Tone Zone, Chopper, etc.) and they always seem to be heavy bottom ended. The stock pickups are definitely more top heavy and brighter than any Dimarzio I have played. With that said, the guitar has a distinctly darker tone due to its 24.5" scale length. More like a Les Paul's balsy yet darker tone. Since it's essentially a Les Paul configuration, it's understandable.
Action, Fit, & Finish :
The guitar is beautiful. The black one has a bound body, and the Tobacco has a beautiful flamed maple veneer finish. The body is Mahogany and the fretboard Rosewood. It has standard 2 humbucker configuration, 2 humbucker, 2 volume, 2 tone, 3-way switch. The neck is unbound and has bird inlays. Like an LP, these guitars are a little on the heavier side, yet very comfortable to play. Out of the box, the guitar setup was good, not great. A half hour later on each guitar, and they played like butter.
Customer Support :
Haven't needed any customer support.
Liked about it :
An incredible guitar. Very comfortable to play. Not as heavy as a Gibson Les Paul, but not as light as an Epiphone either. It has a nice dark tone to it. Not overly dark, but you can hear the difference that the scale length makes.
Didn't like : My only dislike, turned out to not be an issue. I always do my own setups, and I was leary about the PRS hard tail wraparound bridge. I couldn't wrap my head around the concept of the whole bridge bring intonated correctly. I've always set each saddle, but that is impossible with this tailpiece. It's one piece, with only 2 Allen screws for intonation. To my surprise, after setting the intonation on the high and low E strings, the entire neck was perfectly intonated. I stand corrected.
Rating:
Either of the guitars rate a solid 8/10 - The Tobacco is beautiful, the black one is also beautiful. They both play exactly the same.
Godin LGX-SA (Synth Access) (9/10)
Blurb:
This guitar gives you the ability to play acoustic guitar, electric guitar and synth (which drives any Roland 13-pin processor). You can play any of the options separately, or any combination of the options with the controls on the guitar. The LGX-SA is a three-voice guitar featuring electric and acoustic guitar sounds, plus the infinite possibilities provided by synth access. The output from the bridge transducer system in the LGX-SA produces six separate signals—one for each string. This divided signal is called hexaphonic and is used to drive guitar synths. The LGX adapted itself to this application quite easily. However, in addition to the electronic modifications, the guitar itself was altered in order to achieve the best possible performance. The most visible difference between the standard LGX and the LGX-SA is in the ebony fingerboard. The use of the ebony fingerboard improves synth tracking. Guitar synth systems in the past were technically complicated and required radical changes in playing technique. The LGX-SA/RolandTM GR-synth combination represents a new standard in user friendliness and performance. This is truly a 'plug in and play' system. FEATURES:
Mahogany neck
Ebony Fingerboard
16" fingerboard radius
25 1/2" Scale
1 11/16" nut width
Mahogany body
Figured Maple Top
Seymour Duncan Custom Humbuckers
5-Way switch
Guitar volume
Tone
Synth volume
Program up/down
3-Way
Magnetic Output
13-pin Synth Output
Acoustic transducer Output
RMC transducer saddles with custom Pre-Amp EQ for: Acoustic Volume, Treble, Mid-Range and Bass controls
Reliability & Durability :
It's a very well made guitar, which makes be believe that this guitar will play great for many, many years. Although I cannot talk about the longevity of the RMC pickups, there have been reports that they do not last forever, and are susseptable to sensitivity changes due to humidity,
Customer Support :
Haven't had any reason to call them.
Liked about it :
This guitar plays absolutely beautifully. The contoured body is very comfortable. Very solid, but not too heavy. It is a joy to play. The Duncan pickups are a perfect set that sound great. The neck is along the lines of a skinnier Les Paul neck. The ability to play acoustic guitar with this guitar is an incredible option. To give you even more options, you have the synth access, which drives the Roland GR Guitar Synthesizers. You have a multitude of options at your fingertips with this guitar, and you can switch and blend each mode on the fly. Just an incredible versatile guitar. There are 2 switches on the guitar that control the GR unit. One switch is a 3 way toggle that allows for Synth Only, Mix, Guitar Only modes. The other toggle changes the banks on the GR unit. The piezo/acoustic sound is an incredible option. There is also a 3 band EQ for the piezo, so you can dial in your acoustic sound.
---
Didn't like : My only gripe about the LGX-SA is the RMC pickups. From what I have read, they are very susseptable to humidity, which can play around with the sesitivity of the under-saddle pickups.
Rating:
9/10 - This guitar looks absolutely stunning and gives you options that other guitars simply cannot give you. Only a 9/10 because of the RMC pickups. Otherwise, a solid 10.
Kramer Baretta 84 (aka The '84) (9/10)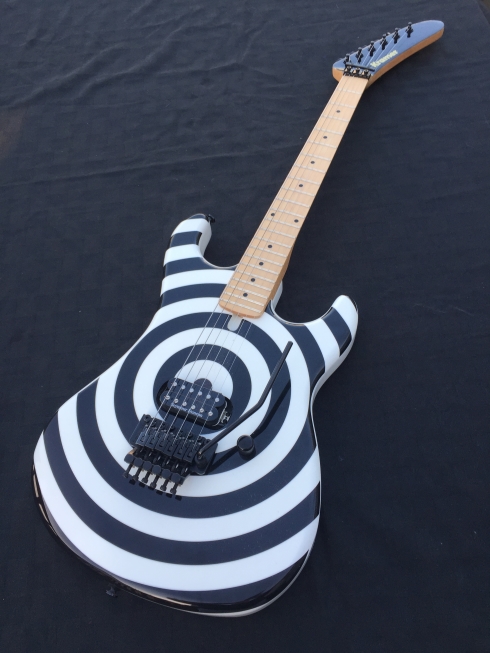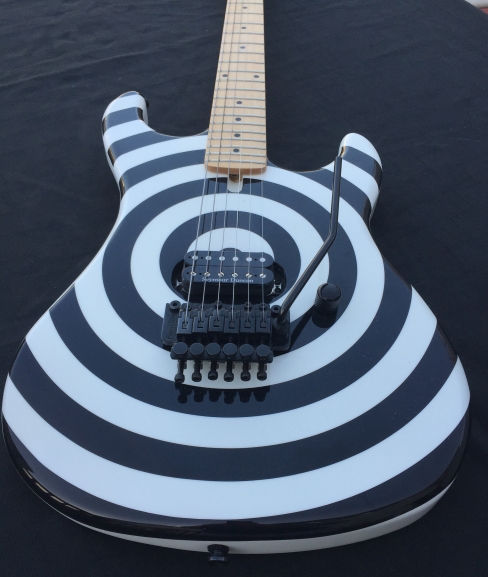 Blurb:
The '84 Long recognized as a leading manufacturer of high-performance rock weaponry, Kramer has put guitars in the hands of the world's top shredders for three decades. With a nod back to the golden age of high-octane rock guitar, Kramer introduces the 84, an homage to one of the most formative shred-monster axes of all time. Styled in the image of the original Kramer Baretta of 1984 with offset double-cutaway body and droopy "banana" headstock—the guitar played and endorsed for a time by Edward Van Halen—the '84 captures all the power, playability, and attitude of the original, with classic colors and graphics to make it more attention-grabbing than ever. Loaded with a single high-output Seymour Duncan® JB™ humbucker pickup in the bridge position with push/pull series parallel coil tapping and a Floyd Rose® "double-locking" vibrato unit, the '84 is finished in your choice of white, banana yellow, Diver Down,solid red, black with red bullseye, or white with black bullseye. Solid Maple body Maple neck with Maple fingerboard Sizzling Seymour Duncan open-coil JB pickup with push/pull coil tapping Original Floyd Rose tremolo with locking tuning system Premium die cast tuners with 14:1 tuning ratio
Reliability & Durability :
Customer Support :
Customer support was absolutely FANTASTIC!!!! I ordered this guitar from a dealer that wasn't near me, so it had to be shipped. When the guitar arrived, it was beautiful, with no signs of damage. After running it through all of my checks, I found that the first 2 frets were dead. No notes would ring out on the B and high E. I contacted the dealer, and he was willing to take the guitar back, but I wanted to see if the company would fix or even replace it because it recieved this way. I contacted them, and got an Return Merchandise Authorization within a couple of days. I shipped it, and verified that they recieved it. My only gripe about them was they weren't forthcoming with information regarding the status of my guitar. I called daily, and pretty much got the same answer that nothing was put in the system regarding the guitar. On about the 5th day, I got in contact with a great customer service representative that went above and beyond for me. She said that there was nothing in the system, and that this is unacceptable for a guitar to be here (there) this long without any updates. She escalated it to management, and got back to me that I should hear something in a day or two. She emailed me 2 days later to tell me that the guitar was completed, and was on it's way back to me. She was already prepared with the tracking number. I recieved the guitar 2 days later, and it was in PERFECT shape. Even the setup was amazing. This was the first guitar that I got where I didn't need to do a setup. I am very maticulous about my setups, adn it was absolutely to my specs.
Liked about it :
The guitar was stunningly beautiful. I was a little concerned that a black and white bullseye guitar would look a little "dated". But when it arrived, it was really stunning. This guitar screams!!! It's has a great feel, nice weight, and perfectly balanced. It also has a coil split, via the single volume pot. You pull the pot up, and the guitar is in single coil mode. The guitar has great sustain, great feel, and sounds great. What's not to like? Since it is a reissue of the 1984 Kramer Baretta, the truss rod adjustment is on the heal of the neck (on the side of the body). The old way of adjusting the truss rod was to loosen the screws, tilt the neck away from the body, make the adjustment, tighten the neck, and repeatuntil satified. Thankfully, they added a routed out area to access the truss rod without any extra steps, which is a great thing. Didn't like : If I have to find any flaw with this guitar, it's a very minor, and insignificant one. The very thin sound of the single coil mode. It's a little bit too high end. But that's really a non-issue. The humbucker cleans up nicely when the volume is rolled back. I don't think I've used it in single coil mode, since originally testing it out.
Rating:
I would probably give this guitar a 10 out of 10 if I didn't own the ESP Lynch (rated above). It's definitely my #2 guitar behind the Lynch. But, since I have the Lynch and the Lynch is ever-so-slightly better, I have to give this a 9/10. If I wanted to expand my rating system, I would give it a 9.5 out of 10. But, I'll stick to my system to avoid any confusion.
Schecter Hellraiser C-1 FR-S (10/10)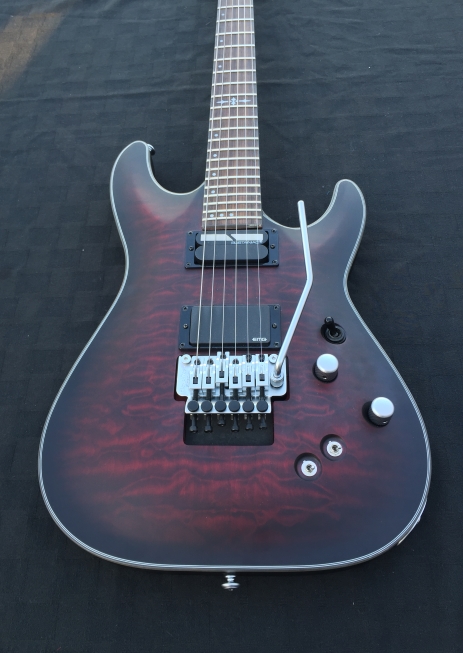 Blurb:
Schecter Hellraiser C-1 FR-S Solidbody Electric Guitar at a Glance:
Rock-solid construction with high-end appointments
Sustainiac humbucker gives you never-ending tone
Floyd Rose 1000 Series bridge/tailpiece lets you carve out hardcore bends
Rock-solid construction with high-end appointments
When you pick up a Schecter Hellraiser C-1 FR-S guitar, you'll be amazed by all of the details and finishing touches that make this a truly remarkable instrument. Its beautiful quilt maple top appears to leap off the surface, and the intricate inlays in its bound fretboard add a special touch of class. What's more, these details aren't just cosmetic. The Hellraiser C-1 FR-S features a set neck with an Ultra Access heel carve, which gives you easy access to those higher, hard-to-reach frets.
Sustainiac humbucker gives you never-ending tone
You just can't beat the sheer sustain you'll get out of your Schecter Hellraiser C-1 FR-S's Sustainiac humbucking neck pickup... literally! That's because this unique pickup design features a special sustain circuit that's designed to let notes ring on as long as you like. Just kick in the sustain circuit, play a note or chord on your Hellraiser C-1 FR-S, and let the electromagnetic feedback carry your sound as long as you like. You haven't busted out a solo till you've rocked a Hellraiser C-1 FR-S!
Floyd Rose 1000 Series bridge/tailpiece lets you carve out hardcore bends
Schecter knows that serious shredders like you demand absolute performance out of their guitars. That's why they loaded the Hellraiser C-1 FR-S with a real Floyd Rose 1000 Series tremolo bridge. A remake of the original Floyd Rose blade tremolo, this incredible bridge lets you grab on, rock out, and never worry about pulling your action out of whack. You'll get both the rock-solid reliability and the tight response you need when you rock out with a Schecter Hellraiser C-1 FR-S!
Schecter Hellraiser C-1 FR-S Solidbody Electric Guitar Features:
Full-featured solidbody electric guitar made for modern playing styles
Slim body style and thin neck provide you with fast action and a comfortable feel
Beautiful quilt maple top adds spank to a rich mahogany body and responsive 3-piece mahogany neck
Sustainiac neck pickup delivers limitless sustain and wicked lead tone
Set neck with Ultra Access heel carve gives you easy access to your upper frets
Floyd Rose 1000 Series Tremolo bridge gives you easy flexibility and reliable stability
Neck-though-body design adds impressive sustain to your tone
Hellraiser series from Schecter Guitars deals with metal-oriented axes of great quality. One of the strongest points of this series and Schecter`s catalog, as a whole is that it offers astonishing quality for the invested money. Hellraiser is one of the top series in the catalog, ranking above the Demon, Omen, Damien and Blackjack. Recent updates of the catalog have removed the Hellraiser from the leading spot, but these are still some of the best guitars in their price range. Body of this C-1 FR Sustainiac is made with a double cutaway, it`s solid and has carved top. In the Black Cherry variant, it features quilted maple top, while the Black is made only of mahogany. Abalone binding and high gloss finish decorate the body. Floyd Rose 1000 series bridge is installed on top of the body and it is paired with a locking nut on the opposite side of the 25-1/2" scale. Pickups section is equipped with EMG81 in the bridge position and Sustainiac humbucker in the neck. Master volume, master tone, intensity knob, two mini-switches for Sustainiac and three-position blade switch comprise the controls unit. Neck is made of three pieces of mahogany, it`s set in and equipped with a supremely comfortable contour in the back. On it`s top Schecter installs a 24-fret rosewood fingerboard. Tuners are Grovers and they come plated in black chrome.
Reliability & Durability :
The guitar is built like a tank. Not worried about it not holding up.
Customer Support :
Haven't had any reason to call them.
Liked about it :
When I first played the guitar, I noticed that the feel was very comfortable, and easy to play. The contoured body adds to this comfort. The neck has a 14" radius, which is very flat, with jumbo frets. The heal of the neck quite possibly could be the best heal I have ever had. The pickups are active EMGs. I've never played them before and they take some getting use to. Very hot, very bright. These pickups may be the first pickups that made me use the tone knob...ever. The neck-through-body gives you quite a lot of sustain, even without the sustainiac activated.
After just playing the guitar in it's normal state, it quickly felt like a perfect fit. The heal of the neck quite possibly could be the best heal I have ever played.
Then I started playing around with the sustainiac, and it really blew me away. It turned a great guitar into one that is almost too much fun to play. There are 2 switches, on/off and a 3-way mode select toggle, normal/mix/harmonic mode. Just using the normal mode, you can sustain a note indefinitely (until the battery dies). Gone are the days of getting to the gig early and walking around the stage, trying to find the spots where your guitar will feedback and sustain a note for a long time. It will do that anywhere, at any volume.
---
Didn't like : I've read that Schecter guitars are known for the setups on their guitars out of the factory. I was unimpressed. The action was much higher than expected. I already knew I was doing a setup on it, since it comes with 10s and I play 9s, so the original setup didn't matter at all. But after reading so much about their setups, I was disappointed in the factory setup.
Rating:
10/10 - Without the sustainiac, this guitar would be a solid 9/10. With the sustainiac, it's a guitar that will give you options that other guitars cannot. It's almost too much fun to play. It's like cheating.
PRS SE Angelus Alex Lifeson Acoustic (10/10)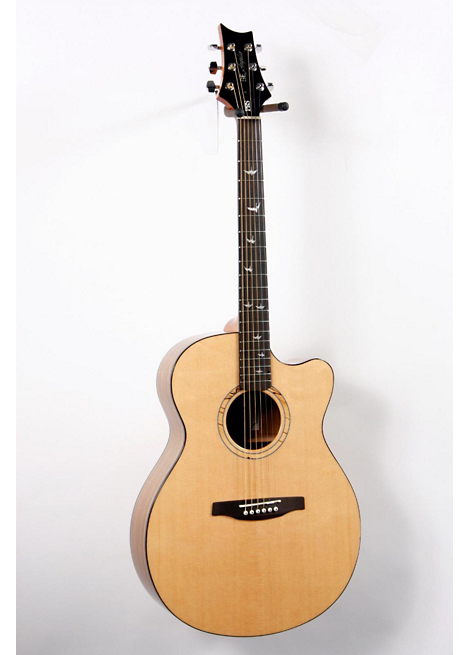 Blurb:
Carrying over unique appointments from the Private Stock Alex Lifeson acoustic, the SE features a thinner body depth than PRS's standard Angelus model. A "Birds in Flight" inlay adorns the rosewood fretboard and pairs nicely with the unique back and sides crafted from figured Dao wood. Players will find a noticeably warm and resonate tone in the SE Alex Lifeson - even when amplified! An undersaddle pickup with both volume and tone knobs will give you all the control you need from the stage. With a solid spruce top, Dao sides and back
Reliability & Durability :
I've owned all my acoustic guitars for many years without issue. There is no reason to believe this guitar will be any different. In fact, the bracing is better than any other acoustic I own, so it might outlast me.
Customer Support :
Haven't had any reason to call them.
Liked about it :
My first concern was that most thin body acoustic guitars have a very thin sound. The thinner body, doesn't gie you the same tone as a full size, which is warmer. I loved the look of this guitar, with the offset bird inlays. But that's never a reason to buy a guitar. The sound and feel are the main reasons. When I picked up the guitar, I realize how well it was made. The feel was fantastic. When I started to play it, I was amazed at the tone. It has a great warm tone, which it incredible for a shallow body guitar.
The neck is also different from most acoustic guitars. It almost has an electric guitar feel to it. Plugging it in, was a little bit of a disappointment. A piezo sounds the same in any guitar, a little thin. This takes away from the warmth of the guitar sound. The mic'd sound through a Shure SM58 sounded a little "tinny". The sound through a Blue Baby Bottle is just a little warmer than I'd like. The absolutely perfect solution was to record 2 tracks at the same time: The mic'd and the piezo. The set the levels of each track to my liking. It has worked perfectly. Didn't like : If I had to choose something that I wished that was a little better, it would be the piezo controls, which are located in the soundhole. There are 2 roll wheels, one for volume, and one for tone. Since the wheels are very thin, there is no room to place numbers on them. This is an incredibly small gripe, and has not diminished from the joy of playing and recording this guitar at all.
Rating:
I am a little weary of giving any acoustic guitar a 10 out of 10, but if I ever did, this would be it. The comfort of a thin body, with the warmth of a full size is an incredible feat. The guitar is a pleasure to play in every sense of the word.
Avid Eleven Rack (9/10)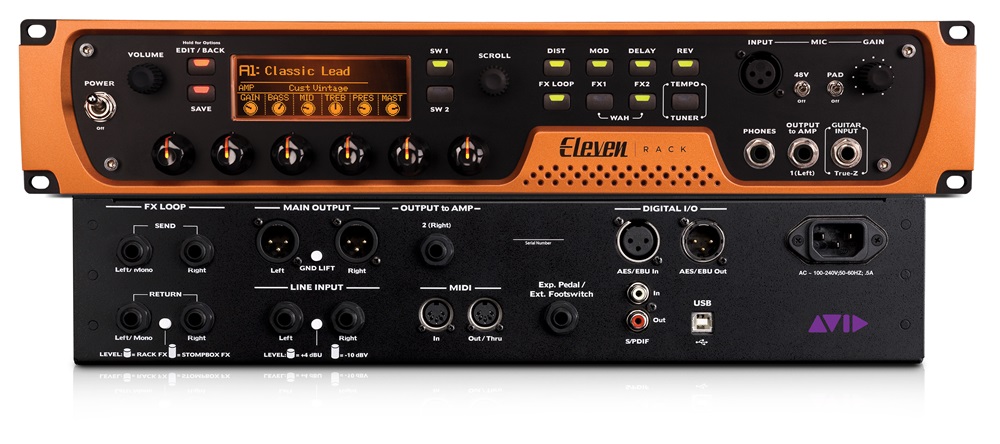 Blurb:
Get the ultra-realistic sound and feel of playing through dozens of the world's greatest guitar and bass rigs-without the expense or hassle. Capture performances using the same professional audio recording software used to create your favorite albums. Then take your tones from the studio to the stage, using Eleven Rack as your standalone amp modeler and signal processor. No matter how you use it, you'll always have the right tone at your fingertips when you need it. Stop struggling with trying to get the sound you're after. With Pro Tools + Eleven Rack, you get great tone and versatility, and a tightly integrated, fully tricked-out hardware/software audio recording solution that keeps up with your creativity. Have access to dozens of the most coveted rigs and stompbox effects for a fraction of the price of a single vintage amp.
Features
Pro Tools software
Compose, record, edit, and mix using industry-standard tools
Build big productions with up to 96 simultaneous stereo audio tracks
Create and edit rig settings right from within Pro Tools
Record dry and processed signals simultaneously for easy re-amping
Never worry about saving presets, as all rig settings are embedded into recorded tracks
Polish mixes with 70 sound processing, effects, and utility plug-ins included
Compose music with the included virtual instruments and MIDI and notation tools
Work with coveted pro features"Automatic Delay Compensation, multitrack Beat Detective, DigiBase Pro, and more
Adjust pitch and time on the fly with Elastic Pitch and Elastic Time
Collaborate with others easily with built-in OMF/AAF/MXF file interchange
Use Pro Tools software with Eleven Rack or standalone
Eleven Rack hardware
Get incredible emulations of classic amp tones inspired by Fender, VOX, Marshall, Soldano, and Mesa/Boogie
Enhance your tone with classic stompbox effects inspired by MXR, Electro-Harmonix, Ibanez, Pro Co, Univox, and more
Gain realistic response and tone with the unique True-Z impedance-matching guitar input
Customize your sound with convolution-based cabinet and microphone emulations
Get the performance you need through powerful onboard DSP acceleration
Record up to eight simultaneous channels of 24-bit/96 kHz audio"with near-zero latency
Stay in tune with the built-in guitar tuner
Customize time-based effects through tap-tempo control
Have the connections you need to rig up your gear for recording:
One XLR mic input with 48V phantom power
Two 1/4" line-level inputs
Balanced stereo XLR outputs and dedicated 1/4" outputs (for amp connection)
Two 1/4" FX sends and returns
AES/EBU and S/PDIF digital I/O
1x1 MIDI I/O
Stereo 1/4" headphone jack
Pedal/footswitch input
Get high-speed USB 2.0 connectivity with your Mac or PC
Take your sound from the studio to the stage with full standalone functionality
Eleven Rack Expansion Pack
Expand your tonal versatility with guitar amp tones inspired by Bogner, Celestion, Fender, Marshall, Matchless, Roland, and more
Re-create the legendary thunderous bass tones inspired by the Ampeg SVT
Enhance vocal and mic'd instrument performances with studio-grade processing and tools
Add life to your tone with dynamic stereo delay, multi-chorus, and other effects
Bring more authenticity and character to your rig with full speaker breakup emulation


Specifications
Converters: 24-bit
Supported sample rates: 44.1, 48, 88.2 and 96 kHz
Analog input:
- 1 x 1/4" TS True-Z
- 2 x 1/4" TRS Line
- 2 x 1/4" TRS FX Loop Return
Analog output:
- 2 x XLR Main
- 2 x 1/4" TRS FX Loop Send
- 2 x 1/4" TS Output to Amp
Digital input:
- 1 x XLR AES/EBU
- 1 x RCA coaxial S/PDIF
Digital output:
- 1 x XLR AES/EBU
- 1 x RCA coaxial S/PDIF
MIDI I/O:
- 2 x 5-pin, DIN MIDI In, MIDI Out/Thru
Sync I/O:
- AES/EBU
- S/PDIF
Headphone output: 1 x 1/4" TRS
Dimensions (W x D x H): 19" x 13.5" x 3.5" (483 mm x 343 mm x 89 mm)
Reliability & Durability :
This thing is a rack unit, steel construction, and can be stored in a rack or standalong on a desk. It's built like a tank, and should be working long after you stop playing guitar.
Customer Support :
Haven't had any reason to call them.
Liked about it :
First, I like the name's reference to Spinal Tap: This one goes to eleven. I have been able to dial in any sound I have been looking for (after the learning curve). The Eleven Rack acts just like an amplifier, turn down the volume on your guitar, and the sounds cleans up, exactly like an amplifier. The Eleven Rack comes with a multitude of Amps, Cabinets, Microphone and Effects to give you so many options on creating the exact sound you are looking for. As an example of the versatility of the Eleven Rack, you even have the options ofspeaker breakup and even if the mic is on axis or off axis. These settings can be dialed in on the Eleven Rack itself, but you can use the Eleven Rack Patch Editor that works on your computer (with the Eleven Rack plugged in via USB) and create your patches in a simple layout. You can hear how the patch will sound before saving it to the Eleven Rack, so you can tinker away for hours and easily find your sound. And if that wasn't enough, there is also an effects loop (just like an amp), where you can add your own effects to the sound. Just turn on the effects loop option, and you are on your way.
---
Didn't like : As with any multieffects processor, when beginning, it can be daunting and very frustrating. Since I've been down this road before with other multieffects processors, I fully expected to be completely lost for a while. Given the depth of this machine, I was lost for longer than expected. But I knew that the true enjoyment would come after getting a working understanding of the unit. I managed to get "over the hump" by tweaking the standard patches a little bit. I would try to change one or two settings for a while, until I was comfortable. I would then add another couple of settings, and eventually I was able to overcome the learning curve.
Rating:
A solid 9/10. This unit gives you the ability to tweak your sound over and over until you find your exact sound. Save that patch and move onto another. Eventually, you will have a large library of patches for any genre of music you play. If a newer generation of precessors had not existed, this would be an easy 10/10.
Roland GR-55 Guitar Synthsizer (9/10)

Blurb:
With the GR-55 (and a 13-pin connection from your guitar) you can play almost any intrument imaginable, simply by playing your guitar. Want to play piano, pick a piano patch. Want to play a sax, pick a sax patch. It's really that simple. This unit gives you all the power of a COSM engine to give you possiblities beyond anything else you've tried to this point.
A NEW ERA OF SOUND, POWER, & PERFORMANCE
The Roland GR-55 is a revolution in guitar synthesis, with features never before available in any guitar processor. In terms of speed, it's the fastest ever. It's also the most accurate, thanks to newly developed pitch-detection technology. As for sound, the triple-core generator houses a world-class array of virtual guitars, basses, amps, and synth voices, enabling tones and textures that have never been heard before. Onstage or in the studio, you can instantly access the GR-55's huge library of ready-to-use sounds, from pop to rock and beyond, with quick-access category buttons. Welcome to a groundbreaking new era in guitar synthesis!
New Sound Possibilities
The GR-55's powerful triple-core engine comprises two PCM synthesizers (with over 900 tones powered by the latest Roland synthesis technology) and COSM guitar modeling, featuring a virtual treasure trove of guitar, bass, amp, and synth models. Together, these combined technologies allow you to create unique, revolutionary sounds. The "Metal Synth Lead" preset, for example, combines two types of thick, brilliant synth textures with an overdriven solid-body/humbucking tone for incredible punch and power.
Lightning-Fast Tracking
Thanks to Roland's decades of research and dedication to guitar synthesizers and powerful new pitch detection technology, the GR-55 is far and away the fastest guitar synth ever. Furthermore, the COSM guitar-modeling engine needs zero detection time, allowing the GR-55 to respond instantly and exactly as you play. The GR-55 detects pitch, velocity, and behavior for unprecedented response to your performance.
Instant Gratification
Get ready to rock…and fast! The GR-55 puts you instantly in touch with a huge library of amazing sounds, no editing required. The onboard lineup of ready-to-use presets (270, plus 297 user) takes the pain out of the process, with simple category buttons for finding the perfect sound fast. Choose from hundreds of great presets for pop, rock, and beyond, and kick-start your song or jam with unique, powerful sounds that will turn heads and raise fists.
There are 567 patch locations (Preset: 270 / User: 297). You can save any patches you create to any of the user locations.
Reliability & Durability :
Customer Support :
Haven't had any reason to call them.
Liked about it :
This unit opens the door to writing ANY type of song you want. Want to write a piano ballad, but don't know how to play piano? Now you can. Want to record a nylon string guitar, but don't have one? Choose a nylon string patch. You even have the option of turning you existing guitar into a 12 string guitar. This unit is incredibly powerful.
---
Didn't like : I don't know if this is a legitimate "dislike", but the GR-55 takes away all your excuses for not writing your own songs. Gone are the "I need a band to record the other parts." No more. It's all in your hands and the GR-55.
Rating:
Focusrite Scarlett 18i20 (10/10)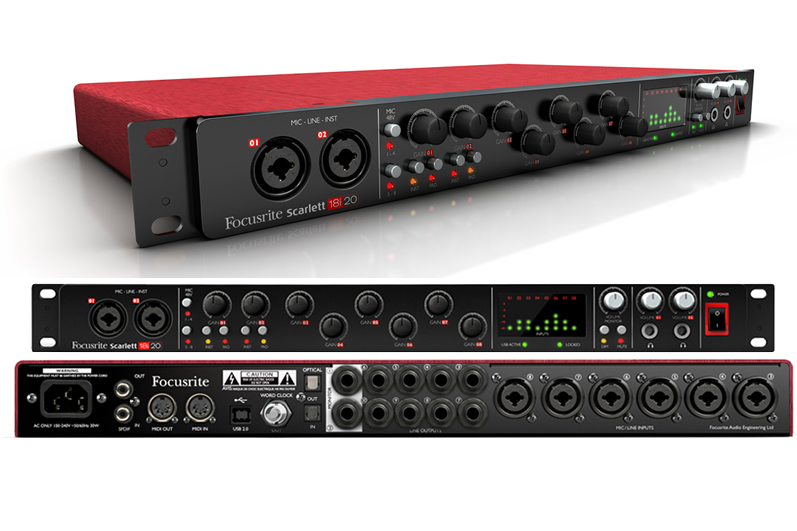 Blurb:
When I started looking for an audio interface into my PC, 2 names kept coming up: Presonus and Focusrite. I originally bought a Presonus Audiobox 1818vsl. The unit was well built, and I was excited to get to PC recording. Immediately, I found myself fighting with the drivers to get any kind of workable latency. No matter what I tried, I could not get it working. Things got so frustrating, that I did something I almost never do. I called Presonus customer service. After being on the phone with their customer service for hours, I finally said "Thank you, forget it. I'm going another route."
That's when I returned the Presonus, and bought the Focusrite 18i8. After the Presonus nightmare, I didn't have much faith in it, but gave it a try. I installed the latest drivers, plugged the unit in, and it immediately worked. No noticeable latency!!!! It was perfect. After tweaking the ASIO drivers, I was able to get the latency down to around 2ms. 1 millisecond is 1000th of a second. If you think you can hear 2ms latency, you are wrong. It's basically 0ms from your ear standpoint.
Handle Anything That Comes Your Way
Our 18-in, 20-out USB audio interface can handle just about anything your band or studio can throw at it. Beautiful and rack mountable, it gives you loads of I/O, pristine sound quality, separate stereo headphone mixes, extensive expansion options and round-trip latency as low as 2.74ms*, all in a 1U space.
Scarlett 18i20 puts eight natural-sounding combination inputs at your disposal. We put two on the front, where you need them most, with newly designed instrument inputs that can handle even the hottest signals. We put six more on the back, so you can leave your mics, synths, keyboards, mixers and effects processors permanently plugged in and ready to go.
World Famous Preamps
All eight analogue inputs feature pristine and natural sounding Scarlett preamps, backed by 30 years of design experience and found in the world's top studios. These guarantee exceptional headroom, plenty of clean gain, low noise, minimal distortion and a dynamic range that is unrivalled in this class.
Create Separate Monitor Mixes
As well as eight balanced analogue line outputs, Scarlett 18i20 gives you two independent stereo headphone outputs so you can give engineer and artist their own separate, fully-customised mixes.
Revolutionise Your Workflow
An unrivalled round-trip latency as low as 2.74ms* completely revolutionises your workflow. You can work entirely inside your DAW for both overdubbing and playback, and use your plugins while recording - depending on your software, settings and computer, of ourse. You'll also get the best out of vocal performances, by applying real-time comfort reverb to artists' headphones.
Designed for Guitarists
We've redesigned Scarlett 18i20's instrument inputs and given them plenty of extra headroom, so you can handle extreme levels without any unwanted clipping or distortion. If you're recording extra loud instruments, you can also engage the 10dB pad in Focusrite Control software.
Microphone Inputs
Frequency Response : 20 Hz - 20 kHz +0.5/-1.5 dB
Dynamic Range : 109 dB (A-Weighted)
THD+N : <0.002%
Noise EIN : -127 dBu
Maximum input level : +8.5 dBu
Gain Range : 50 dB
Impedance : 3k Ω
Line Inputs
Frequency Response : 20 Hz - 20 kHz +0.5/-1.5 dB
Dynamic Range : 109 dB (A-Weighted)
THD+N : <0.003%
Maximum input level : +22 dBu
Gain Range : 50 dB
Impedance : 52k Ω
Instrument Inputs
Frequency Response : 20 Hz - 20 kHz +0.5/-1.5 dB
Dynamic Range : 109 dB (A-Weighted)
THD+N : <0.003%
Maximum input level : +12 dBu
Gain Range : 50 dB
Impedance : 1M Ω
Monitor Outputs (1-2)
Frequency Response : 20 Hz - 20 kHz ±0.5 dB
Dynamic Range (Line Outputs) : 108 dB (A-Weighted)
THD+N : <0.001%
Maximum Output Level (0 dBFS) : +16 dBu
Impedance : 94 Ω (Balanced)
Line Outputs (3-10)
Frequency Response : 20 Hz - 20 kHz ±0.5 dB
Dynamic Range (Line Outputs) : 108 dB (A-Weighted)
THD+N : <0.001%
Maximum Output Level (0 dBFS) : +16 dBu
Impedance : 94 Ω (Balanced)
Headphone Outputs
Frequency Response : 20 Hz - 20 kHz ±0.5 dB
Dynamic Range : 108 dB (A-Weighted)
THD+N : <0.001%
Maximum Output Level : +13 dBu
Impedance : 10 Ω
Reliability & Durability :
I have been owned 2 Focusrite Scarlett units, and the only reason that I owned 2, was because I upgraded from an 18i6 to an 18i20. The original unit worked perfectly the day I bought it, and the day I sold it.
Customer Support :
Haven't had any reason to call them.
Liked about it :
After plugging the unit in and working in 2ms latency, I was thrilled. That alone would be enough to justify the price of the unit. But it has multiple inputs with excellent converters. Absolutely loved everything about it. But there was more. It comes with a software mixer, Scarlett MixControl, which is a fully functional mixer.
With the MixControl software, you can do pretty much anything you can do on a real mixer. You can route inputs/outputs to different locations. For example: If you have a band, and start a recording, you can record everyone at the same time. With the routing option, the singer might only want to hear the drums and bass. The guitar player might not want to hear the singer, the bass player might only want to hear the drums. All of this is possible through routing...and all at the same time!!!
If that wasn't enough, the unit comes Didn't like : The only problem I have ever had with any focusrite happened years ago, and was quickly fixed. The headphones would cut out during peak PC usage. The only way to get the sound back was to reboot the unit. The issue was a DRIVER ISSUE, which was fixed in the next driver release.
Rating: 10/10
From the moment I plugged the unit in, I loved it. The Scarlett MixControl software adds a whole new dimension to the unit. The 18i20 not only gives me everything I could want now, but gives me all the inputs I could ever need going forward.
Blue Baby Bottle Microphone (9/10)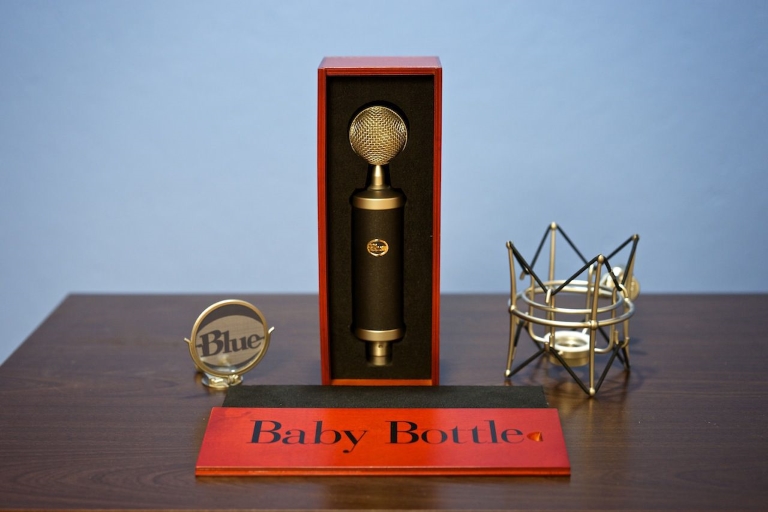 Blurb:
Blue Microphones' transformerless Baby Bottle cardioid condenser microphone delivers a rich, accurate midrange response that makes it ideal for recording vocals, drums, and electric guitars, along with more difficult sources like saxophones and horns. It utilizes Blue's famous hand-tuned and tested large-diaphragm capsule and a Class-A discrete circuit to achieve superior detail and clarity. And its unique, vintage-inspired appearance adds a little something extra to your studio presence. The complete Baby Bottle package includes a pop filter, custom spider shockmount, and wooden storage case.
Vintage Design, Professional Results
Reminiscent of some of the world's finest vintage microphones, the Baby Bottle microphone can cut through the busiest tracks, while maintaining the high-quality, no-compromise audio that you expect from Blue Microphones. The Baby Bottle was designed shortly after Blue's famous Bottle microphone, and--like its predecessor--features a seamless blend of style and sound quality. This starts with a lollipop spherical grille housing Blue's renowned hand-tuned and tested large diaphragm capsule, and extends to include a transformerless output design that delivers accurate sound-source reproduction.
A Distinctive Sonic Signature
Each professional-grade Blue microphone utilizes a unique, proprietary capsule design to capture a specific sonic signature, and the Baby Bottle is no exception--it offers a full midrange response, along with a smooth top-end and neutral bottom-end, which creates an extremely rich, classic yet contemporary sound. This makes the Baby Bottle an ideal choice when you're recording vocals or room mixing for drums or electric guitar amps. It can even handle difficult sources like strings, flutes, saxophones, and brass instruments. In addition, with a unique proprietary circuit polarizing the capsule film at 100 volts, the Baby Bottle yields a large output that makes it the quietest microphone in its class.
Cardioid Polar Pattern and Discrete Electronic Components
Featuring a cardioid polar pattern, the Baby Bottle is built to capture rich, full-bodied sound from sources that are directly in front of the mic. The capsule and cardioid pattern combine with high-quality electronic components, including a Class-A discrete amplifier circuit, to ensure that each Baby Bottle mic offers consistent, reliable performance. The electronic components in Blue Microphones have been carefully selected, based on 20 years of engineering and experimentation, in order to increase microphone speed, decrease distortion, reduce product variance, and ensure long-term dependability.
Includes Shock Mount, Storage Case
In addition to the mic itself, the Baby Bottle setup includes a custom spider shock mount for controlled use and a pop filter for laying down clean vocals. It also comes with a wooden storage case that matches the mics retro good looks.
The Baby Bottle is backed by a three-year limited warranty.
What's in the Box
Baby Bottle cardioid condenser microphone, shock mount, pop filter, and wooden case.
Vocals:
Here's a little-known secret - vocalists LOVE singing into unique and impressive microphones like the Baby Bottle! Put it in front of any singer and you're guaranteed to get an inspirational performance!
Electric Guitar:
Because of its full midrange response, the Baby Bottle is an excellent mic for any clean or distorted amp sound. Orient the capsule toward the center of the speaker to capture more highs, or toward the edge of the cone for a fuller sound with more low end.
Acoustic Guitar:
Large Diaphragm mics require careful placement when used on acoustic guitar, but the Baby Bottle's rich tone and hot output is well-suited to this job.
Strings:
Because of its high output, natural highs and abundant midrange characteristics, the Baby Bottle is an excellent choice for miking all members of the bowed string family.
Drums:
The Baby Bottle's slim profile and fast transient response offer numerous advantages when recording drums.
Saxophones, Flutes & Reeds:
The smooth, natural high-end response of the Baby Bottle makes it an ideal choice for miking saxophones and other wind instruments.
Reliability & Durability :
I've owened several microphones over the years, and this one seems to be built as well as any of the others.
Customer Support :
Haven't had any reason to call them.
Liked about it :
For a while, I was recording using a Shure SM58, which is touted as the standard. When doing some tests, I found the SM58 to sound a little tinny, and definitely not warm. I recorded some test tracks with an acoustic guitar, located around the 12th fret, angled toward the body. The sound still wasn't warm. I was pretty stunned, since I used that mic for backup vocals for many years.
I heard some great things about Blue microphones, so I stanted looking into them, and they were getting rave reviews. The mic was still a higher in price than I was considering spending, and that's when lightning struck. Right around that time, Blue was having an incredible sale. This made me reconsider buying a Blue microphone and started me thinking which one I would be buying. After reading tons of reviews, and watching tons of videos, the Baby Bottle was my choice.
One of my first tests was some simple vocal tests. Considering my voice being horrible, the sound was nice and warm, and definitely not muddy.
Next was some tests recording an acoustic guitar. I placed the mic exactly where I placed the SM58 before, and hit record. The difference was stunning. The Baby Bottle had a wonderful warm tone, unlike the SM58. It also caught the highs correctly, not "tinny" at all. I'm sold on it. Didn't like : My one "gripe", if you can call it that, only cosmetic, is that the pop screen has the word blue on it. This isn't a bad thing, it actually looks pretty nice. The problem is that I have the mic on a boom stand, and the microphone is upside down on the boom stand. This means the word "Blue" is also upside down. If the screen portion was removable from the pop screen mount, I'd be able to turn it so that print would be facing in the correct direction. This gripe has absolutely nothing to do with the microphone's functionality. Strickly a cosmetic thing.
Rating: 9/10
From the first time I plugged the mic in, I found it to be far superior to the industry standard Shure SM58. The mic picks up all the nuances in the acoustic guitar, and seemed to have a larger range. I didn't give it a perfect score because I'm not sure I would want to bring this mic to the studio. It's actually too nice for a rented studio.
Peterson StroboPlus HD Tuner (3/10)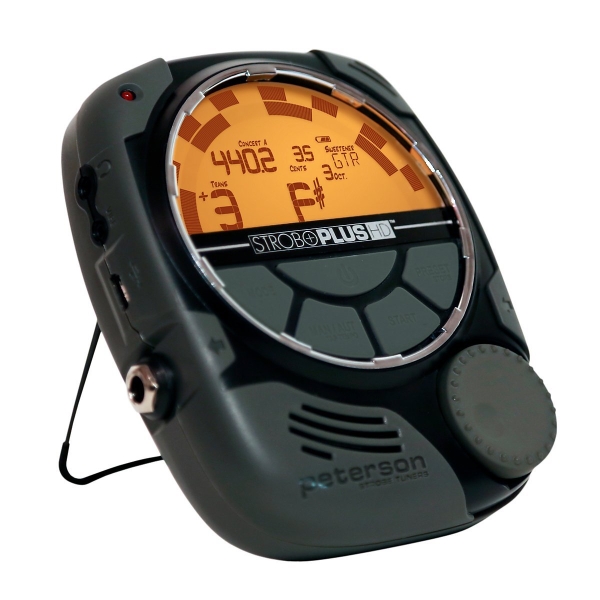 Blurb:
Really Peterson? The StroboPlus HD? Really?????
I lost my strobe tuner when Hurricane Sandy created a tidal wave that basically flooded the North-East corridor of the U.S. So after trying to do setups on a couple of new guitars, I knew that I needed another strobe tuner. There is nothing like a Peterson. Very reliable, and usually make like a tank. I said usually. I ordered the StroboPlus HD from Guitar Center, and it arrived quickly. I was thrilled.....for about 10 seconds. When I held it in my hands, and realized how crappy it was, I couldn't believe it. It wasn't made like the previous models. This thing felt like a cheap toy. It was plastic. They added a single plastic wheel on the front to dial through the options. There are several sweetened tunings available, and these are slight variations on the hard standard tunings. To be honest, I really didn't hear a difference in the Sweetened Guitar tuning vs standard. But that could just be me. Peterson releases updates for the unit periodically, and you simply plug in the device, and run their software, and it will update the unit with the latest firmware. Most of the updates are tweaks to the sweetened tuning options. It has a large amber display that it easy to read. I didn't try it in sunlight, but I doubt it would hinder the visibility.
Reliability & Durability :
I was afraid that it would break quicker than my smartphone if I dropped it. It seemed very cheaply made.
Customer Support :
Customer support seems to be pretty good. In my case, I'm not talking about calling them with any issues. I'm talking about the multiple updates that have been given for both units.
Liked about it :
The standard Peterson strobe tuning that we've become accustomed to over the years. Frequent firmware updates.
Didn't like : From the moment I opened it, I hated the casing of this thing. It feels like a toy. I was positive that it would immediate break upon a short crop from my work bench or even my computer desk. I would have had to go to the 1980 store, and get some horrible deep shag carpet for the floor, in order to feel comfortable using this thing without bolting it down to the table with clamps.
I also HATED the fact that I spent a ton of money on a toy, and was told that I had to play $49 more to activate the metronome functionality in the unit. What is this? Shareware? I can buy a phone app for $.99 that will do the same thing. Are they kidding?
Rating:
3/10 and it ONLY got 3 stars because it's a Peterson. The tunings work as they should. But the overall quality of the unit is crap. Thankfully, I was able to return it and grab a VSS-C Stomp classic pedal tuner. I'll post that review soon.
Peterson VSS-C Stomp Classic Strobotuner Pedal Tuner (10/10)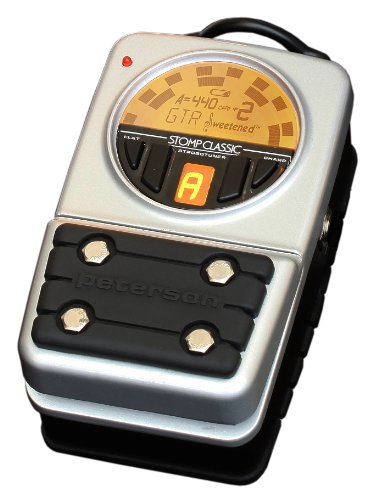 Blurb:
I lost my strobe tuner when Hurricane Sandy created a tidal wave that basically flooded the North-East corridor of the U.S. So after trying to do setups on a couple of new guitars, I knew that I needed another strobe tuner. There is nothing like a Peterson. Very reliable. I got this tuner after the misfortune of buying the StroboPlus HD first. So, there will be some comparisons to that unit in this review. ( see StroboPlus HD ) This thing is built like a brick s-house, unlike the StroboPlus HD. It actually weighs about as much as a standard brick. It is a very solid pedal. I has a thick rubber bottom on it for using it on a table or desk. It also has 2 options for being placed on your pedalboard. The unit comes with 4 metal feet that allow you to screw that pedal into your board. If you're not that extreme, like me, there is also an option to remove the rubber bottom easily by removing the 4 screws that keep it in place. Then you do what you do with all you other pedals, throw some industrial strength Velcro on the back and place it on your board. The unit has "Sweetened Tunings" for various instruments and tunings. Apparently, they are supposed to make the instrument sound "sweeter", but my ears couldn't notice a difference. But I do keep the unit on the "Sweetened Guitar" setting, I could use the help :) The unit has a micro usb jack, where you can connect it to your computer and run their software for pretty frequent firmware updates. That's a nice feature. I guess it's a great business move. Even if they just update the version number, it makes you feel good that they are doing something for you :)
Reliability & Durability :
Did I mention that this thing is a tank. As long as another tidal surge doesn't wipe it out, I think it will be the last tuner I will ever have to buy.
Customer Support :
Customer support seems to be pretty good. In my case, I'm not talking about calling them with any issues. I'm talking about the multiple firmware updates.
Liked about it :
The standard Peterson strobe tuning that we've become accustomed to over the years. Frequent firmware updates.
---
Didn't like : I can honestly say that I haven't run into any negatives yet with this unit. It does everything that we've come to expect from Peterson tuners.
Rating:
10/10 - This thing is everything the StroboPlus HD was not.